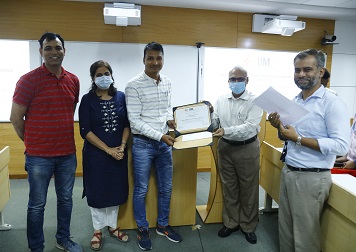 Felicitation programme of MGNF participants
Jul-21-2022
IIM Visakhapatnam Director, Prof. M. Chandrasekhar, felicitated the Mahatma Gandhi National Fellowship (MGNF) fellows at for their holistic performance in academic module (AM-1) and District Immersion Module (DIM-1) on 21 July 2022, at IIMV transit campus.
To encourage the fellows' commitment to their impeccable academic excellence, a certificate of merit and a book grant of INR 1,000 was awarded to the top five fellows who performed exceptionally well in AM-1 with the highest CGPA. The five fellows who received the book grant, in the order of merit, were: Kaki Likhitha, (Lepa Rada district), Banavatu Saiteja (East Godavari district), Tanya Singh (Lower Subansiri district), V Vignesh (Dibang Valley district), and Penugonda Rama Sai Lokesh (Kurnool district).
The cohort of 72 MGNF fellows is divided into 12 groups, each of which consists of six MGNF fellows and is mentored by two faculty members. The MGNF fellows who wrote and presented the best Case Study was awarded a merit certificate and a cash prize of INR 3000. The 12 fellows who received this recognition were: Banavatu Saiteja (East Godavari district), Bevara Sunitha Lakshmi (Prakasam district), Kaki Likhitha, (Lepa Rada district), Christy Sunny (Kurung Kumey district), Sumegha Shaw (East Siang district), V Vignesh (Dibang Valley district), Priti Kumari (Supaul district), Chandrajeet Kumar Gupta (Lakhisarai), Gulshan Kumar Sharma (Sheohar), Shruti Raj (Araria), Baby Muskan (Bhagalpur), Baby Kumari (Rohtas).
Ms. Meemansa Singh, an MGNF fellow from East Kameng, Arunachal Pradesh, spoke about the difficulties and experiences she encountered in her district. She also described how the various courses taught in the MGNF academic modules at IIMV enhanced her skill set and enabled her to implement them more effectively during district immersion modules. Sai Lokesh, another MGNF fellow (Kurnool district), described how he learned and adapted to situations in order to increase his competence and collaborate with others to resolve conflicts.
The chief guest for the event, Prof. M Chandrasekhar, praised the noteworthy contributions of the MGNF fellows' in their respective districts, and drew the parallels between the fellows' work and the quote of the German poet, Jofhann Wolfgang von Goethe - "Knowing is not enough; we must apply. Willing is not enough; we must do". The event was also attended by faculty members from a variety of academic areas who praised the MGNF fellows' achievements. They acknowledged the opportunities of mutual learning offered by the mentorship sessions.