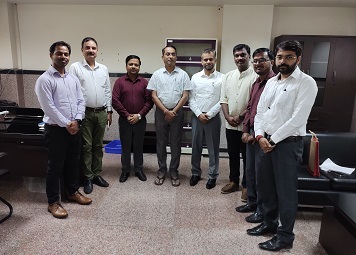 MGNF Project leadership team from IIMV visits Bihar
May-21-2022
Prof. Md. Shameem Jawed (Project Director) and Mr. BNSR Swamy Kosuru (Program Manager), who represent the MGNF Project leadership team from IIM Visakhapatnam, visited Patna, Bihar between 20 and 21 May 2022. This two-day visit was for briefing various authorities about the program progress and to propose further collaborations to bring in expertise and knowledge for skill strengthening at the district levels.
On the first day of the visit, meetings were held with Shri. Sandip Kumar R. Pudukalkatti, IAS, Secretary Skill & Labour Resource department, Ms. Ranjita, IAS, Additional CEO & Labour commissioner, Shri. Alok Kumar, IFS, Special Secretary Skill & Labour, Govt. of Bihar, and Shri. Atul Ranjan, MD, Bihar Skill Development Mission.
On the second day, meetings were held with Shri. Nilesh Kumar Mishra, Manager Sector Skills, Ms. Bhawana Verma, State engagement officer, NSDC, Shri. Abhishek Anand, Project lead, Bihar Vikash Mission, and Mr. Tarun Kumar Ranjan IEC Expert, Bihar Vikash Mission.
This visit would further strengthen the ties between the institute and the state government and help improve skill and livelihood scenario in the districts where the MGNF Fellows are placed – both as part of the program and beyond.