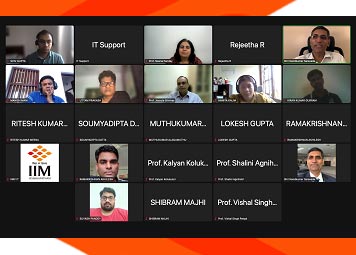 Lecture on "Cyber Security Issues for Digital Government"
by Shri Nandkumar Saravade, IPS (Retd.)
Apr-09-2022
Post Graduate Program in Digital Governance and Management (PGP-DGM) office at IIM Visakhapatnam organized a Webinar on "Cyber Security Issues for Digital Government" on Saturday, 10 April 2022. Shri Nandkumar Saravade, IPS (Retd.), Director, Cyber Security and Compliance, National Association of Software and Service Companies (NASSCOM), was the speaker for the occasion. Shri Saravade discussed the Security Maturity Model depicting basic to advanced progression in cybersecurity and how to gain optimization in this regard. He also spoke about organizational resistance to emerging technologies, the risk involved, and processes to avoid, mitigate, and transfer the associated risk aversion. "Continuous improvement and innovation" are the key to gaining expertise in any process, Shri Saravade concluded.

Prof Neena Pandey, Chair, PGP-DGM, spoke on occasion and emphasized the importance of vigilance and awareness for professionals in digital governance in the context of cybersecurity.

Shri Nandkumar Saravade served the Indian Police Service for 21 years and, post-retirement, has headed fraud detection units of premier institutions such as the ICICI Bank, Citibank India, and E&Y. He also led the Data Security Council of India as its CEO during 2015-16 and has been the founding CEO of Reserve Bank Information Technology Pvt Ltd (ReBIT) until May 2021.

The PGP-DGM 'Distinguished Lecture Series' is a hallmark of IIMV's PGP-DGM program and complements the in-class learning of students with knowledge-sharing by distinguished personalities with extensive experience in the field of Digital Governance and Management. This was the fifth lecture in the Distinguished Lecture Series.