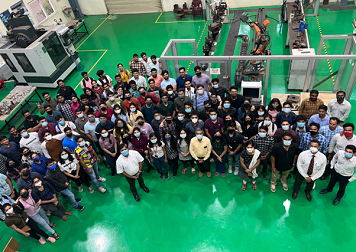 PGP Students' Study tour to the 'Centre of Excellence in Maritime and Shipbuilding' CEMS, Visakhapatnam
Jul-10-2022
IIM Visakhapatnam's Operations Strategy (OS) second-year PGP students visited the 'Centre of Excellence in Maritime and Shipbuilding ' (CEMS) for a study tour on 10 July 2022. CEMS is a skill development project launched by the Ministry of Shipping, Government of India, in collaboration with Siemens Industry Software India Pvt. Ltd. and Indian Register of Shipping, in line with the Hon'ble Prime Minister's initiative of Skill India. CEMS seeks to impart training pertinent to Industry 4.0 in the software and hardware tools and technology used in the engineering industry.
The objective of the visit was to understand and imbibe the concepts and applications of IOT, IIOT, automation, control of machines and equipment via Cloud, Digital Twin, Augmented Reality (AR), and Virtual Reality (VR) in the real world, thereby enhancing the students' abilities to articulate technological strategies for the corporate world. Students toured the Internet of Things (IoT) lab, the Mechatronics lab, the Process Instrumentation lab, the Robotics lab, and received hands-on experience with AR/VR and Product Lifecycle Management (PLM) technologies.
The visit was a component of the Operations Strategy course, and it was productive and beneficial for the students. It was an excellent opportunity to gain a practical understanding of the activities that lead to the articulation and implementation of technologies as an integral part of Operations Strategy in the current era of digital disruption and Industry 4.0 technologies. The experiential learning enhances and reinforces classroom discussions. The OS Course students thanked Prof. PRS Sarma for taking the initiative and facilitating the visit.