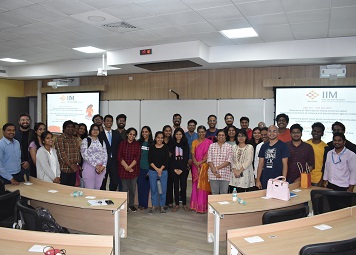 Guest Talk on "Addressing gender issues, gender sensitization in Higher Educational Institutions (HEIs)- Challenges and Perspective
Dec-09-2022
IIMV is observing the Discrimination against Women pakhwada from 25th November to 10th December, 2022. In this regard, on 9th December, IIMV organised a guest talk titled 'Addressing gender issues, gender sensitization in Higher Educational Institutions (HEIs)- Challenges and Perspective' in order to raise awareness about gender issues and gender sensitization. Prof S Sumitra, M.A.,ML.,Ph.D., Honorary Professor & Rtd. Principal, Dr B R Ambedkar College of Law, Andhra University, Visakhapatnam, and Chairperson, Women's cell, IIMV, was the guest speaker at this event. In her speech, she discussed the perils of a patriarchal society and the pervasiveness of gender issues in society. She noted that a patriarchal structure does not involve only men, but that women also play a significant role in patriarchal societies. Later, she responded to the students' questions. Faculty, staff and students were present during the talk.
Earlier, on behalf of IIMV, the Vatsalya Club (Students Affairs Council) had organised poster-making, painting, and quiz competitions for all the students on themes related to 'Eradication of Discrimination against Women'. Certificates were awarded to the winners of these competitions during this event. The Cultural Club (students) staged a play and dance to raise awareness about the eradication of all forms of violence and discrimination against women.
Prof. Deepika Gupta concluded the ceremony with a vote of thanks.