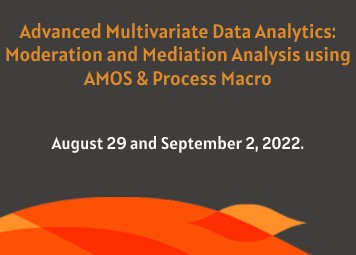 Online Certification Program
Advanced Multivariate Data Analytics: Moderation and Mediation Analysis using AMOS & Process Macro
Aug-29-2022
Program Introduction:
Structural Equation Modelling (SEM) is a statistical methodology that is widely used in social sciences research (especially marketing, organizational behavior, human resource management, psychology, behavioral finance, and behavioral economics). SEM models are so general that they encompass most of the statistical methods that are currently used in the social and behavioral sciences. SEM allows a researcher to test complex models with multiple pathways, model latent variables with multiple indicators, investigate mediation and moderation in a systematic way and adjust for measurement error in predictor variables. This workshop shall provide the participants a descriptive theoretical and practical knowledge to SEM, moderation, and mediation. AMOS, and Process macro will be used to learn all the statistical technique, which is uniqueness of the FDP.
Program Duration:
15 hrs (10 sessions of 1.5 hrs)
Program Schedule:
The Programme will be conducted from August 29 and September 2, 2022. There will be two sessions per day from 6:00 PM to 7:30 PM and 7:45 PM to 9:15 PM as per the Indian Standard Time (IST).
Pedagogy and Assessment:
Course will be taught through online platform.

Program Prerequisite:
Research Scholar/Students, Faculty members, and Corporates
A PC with at least 4 GB RAM (preferably 8 GB).
A stable internet connection of 1mbps or higher.
SPSS and AMOS Software
Content
Introduction to SEM
Confirmatory Factor Analysis
Higher Order Factor Analysis
Path Analysis
Mediation Analysis: Introduction
Sequential Mediation Analysis
Parallel Mediation Analysis
Moderation Analysis: Introduction
Moderation Analysis: Interaction Effect
Moderation Analysis: Multi-Group Analysis
Moderated-Mediation Analysis
Mediated-Moderation Analysis
Complex modelling in Research
Use of SEM in Different Domains of Management: Marketing, HR/OB, Finance, Operation, and Information System
How to Publish in High Impact Factor Journals
Award of Certificate:

A minimum of 70% attendance in the course is mandatory.
No Alumni status or Institute email shall be provided
Important Dates:
Application Closure Date:
August 23, 2022
Online Classes Start Date:
August 29, 2022
Course Completion Date:
September 02, 2022
Program Fee Structure:
| | |
| --- | --- |
| Participant Category | Registration Fees (Including GST @ 18%) |
| Research Scholars/Students | INR 2950 |
| Faculty Members | INR 5900 |
| Corporates | INR 11800 |
| Foreign Participants | USD 75 |
Registration will close on August 23, 2022. The seats of the workshop are limited. The registration will be purely on first-come-first-serve basis. IIM Visakhapatnam reserves the right to deny registration once the seats are full.

About the Instructor:
Dr. Amit Shankar

Assistant Professor (Marketing)
Email: ashankar@iimv.ac.in
Prof. Amit Shankar is Assistant Professor at IIM Visakhapatnam in the area of Marketing Management. He is PhD from Vinod Gupta School of Management, IIT Kharagpur. He has Academic experience of 5 years working with renowned Institutes. He has published in leading journals (ABDC journal classification). He has conducted workshops on SPSS, Amos, SmartPLS, Advanced Excel, and Process Macro in premier institutes of India.
Google Scholar ID: https://scholar.google.co.in/citations?user=wPu6DdsAAAAJ&hl=en&oi=ao