About :-

TEDx is an independently organized TED like event with the aim of curating ideas worth sharing across the community. IIM Visakhapatnam, one of the premium B-schools of India organized its first chapter of TEDx, popularized as TEDxIIMV. It was organized with the theme revolving around the topic "Dream On" with esteemed speakers on stage with the mic.

Date : February 17, 2018
Venue : Four Points by Sheraton, Visakhapatnam
Our Speakers :-
Five distinguished speakers delivered their engaging talks on topics related to Arts,
Technology, Education, Sports, etc. They are :
1) Awdesh Singh - Ex-IRS Officer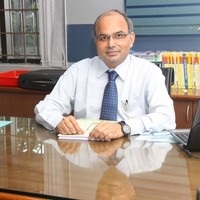 Dr. Awdhesh Singh is the author of four best-selling books and a top Quora writer. He has over 500 articles published on various forums and has answered over 3300 questions on Quora.com. He received his B Tech and M Tech degrees from IIT Varanasi and IIT Delhi, respectively, and his PhD from IIITM Gwalior. He joined the IRS (Customs and Central Excise) in 1991 and retired on October 31, 2016, after more than 25 years of service to the government. He received a Certificate of Merit from the World Customs Organization in 2011 and a Presidential Award from the Government of India in 2015. He is a founding member of 'The Aatmic Science Foundation,' an Indian non-profit organisation dedicated to disseminating scientific interpretations of various scriptures and religions. In his address, Dr. Awdesh Singh dwelt on the power of thought. He strongly propagated that every thought that comes into our mind is the thought of our entire world.
2) Jawed Habib – Entrepreneur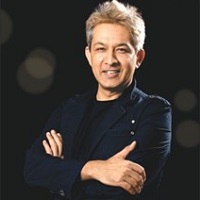 Mr. Jawed Habib aims to reach out and make everyone attractive and fashionable. The founder of Jawed Habib Hair & Beauty Ltd revolutionised the field of cosmetology in India and other parts of the world by transforming a taboo profession into a fashionable one. He believes that in order to be successful, one must have some tinge of madness and passion. In his spare time, he continues to interact with his customers in order to better understand their true needs and demands. In his address, he spoke about how working part time at McDonalds, instilled the thought of making McDonalds like franchise system in Hair care & beauty fields. He jokingly said that AI could kill all the jobs but it still needs a person to style the hair. He spread the idea of romanticizing with your dream to achieve it.
3) Kaustubh Khade - Professional Kayaker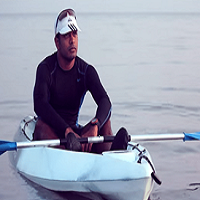 After graduating from the Indian Institute of Technology (IIT), Kaustubh took up kayaking as a challenge and has since risen to become one of India's top pro kayakers in just 5 years. In 2012, he won two silver medals and one bronze medal at the Asian Dragon Boat Championship. He made his name into the Limca Book of Records in 2015 when he kayaked from Mumbai to Goa in 17 days. Kaustubh is a trendsetter who aspires to revolutionise a sport that is relatively unknown in India. In 2016, he became the first Indian to kayak along India's west coast from Kutch to Kanyakumari in 85 days, covering six states and one union territory and covering a record distance of 3300 kilometres. In his address, he spoke about 'Why a dream' and what it takes to achieve that dream. He spoke about his own journey of how he left the job and pursued his dream of Kayaking and urged the audience to pursue their dream.
4) Ramya Ranganathan - Organizational Behaviour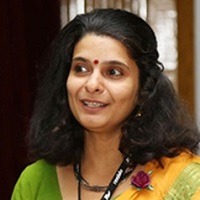 Dr. Ramya Ranganathan graduated from IIT Madras with a B.Tech in Electronics Engineering and a PGDM in Management from IIM Ahmedabad. She went on to explore the fundamental question 'Why do people work' after working in blue chip companies such as ICICI, Infosys, and Citibank. She earned a doctorate in Organizational Behavior from London Business School after studying psychology, philosophy, and theology as well as conducting academic explorations in human behaviour. Ramya has spent the last eight years designing and teaching courses at IIM Bangalore, where she encourages students and executives to create meaningful careers for themselves. Her vision is of a world in which there is no longer a division between happiness and work. Ramya has many avatars, including poet, philosopher, professor, and parent. She is also a yoga instructor.She published her first collection of poems titled 'I'm Choosing Life' in 2017. In his address, she spoke about her pursuit to explore why do people work. Inspiring the audience with her role as a poet, philosopher, yoga teacher and many more, she suggested how integrative thinking is a better tool to helps you explore the infinite options. She invited students to craft meaningful careers for themselves. And how creating experiences is important for any person because it is the experiences that stay with people.
5) Hemlata Tiwari - Social Entrepreneur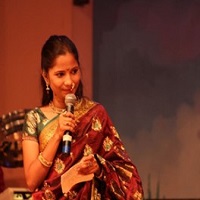 She initiated a musical platform Swaradhar which provides opportunities to unrecognised musicians performing on the streets, railway stations, etc to showcase their talent to masses and hence giving them an opportunity to earn better. Hemlata says, "If we can go to a music concert and pay a huge amount of money to the performers, why do we hesitate to reward appropriately those who entertain us on the streets or railway platforms?" Hemlata says that her dream was to take these performers from railway platform to a musical platform. She inspired the audience with her zeal to dream for others. In his address, she went on saying "If we can lose out purse strings for a music concert why must we hesitate to reward appropriately those who entertain us in the streets or at railway platforms ", Hemlata Tiwari added that her dream was to take these performers from railway platforms to music platforms. She inspired the audience with her zeal to dream for others.
Event Images :-