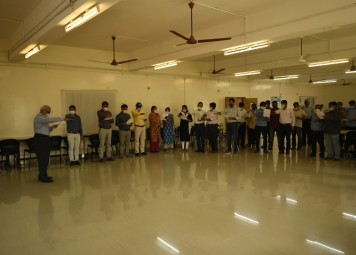 IIMV celebrates Constitution Day on 26 November 2021
Nov-26-2021
Indian Institute of Management Visakhapatnam celebrated Constitution Day to commemorate the adoption of the Constitution of India by reading the Preamble to the Constitution of India at the campus.

As a part of this initiative of the 'Ek Bharat Shrestha Bharat' program, the faculty, staff, and students of the Institute read the Preamble in English and Punjabi to reaffirm their commitment and faith in being a righteous citizen.
Prof. M. Chandrasekhar, Director IIM Visakhapatnam, addressed the gathering and emphasized the importance of upholding the tenets of the Preamble and treating everyone equally to instill the idea of unity and integrity of the nation.