Page 5 - research-at-iimv-june-01-2022-v3
P. 5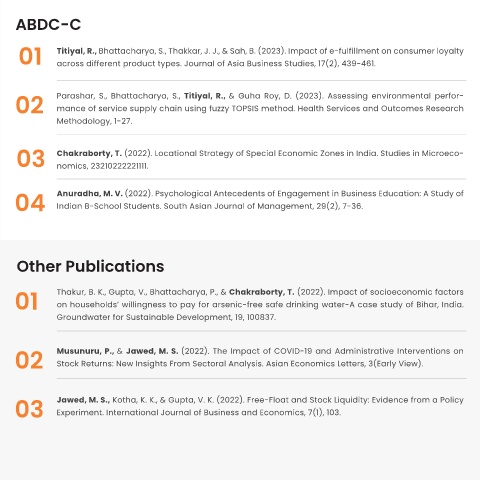 05         Kazancoglu, Y., Sezer, M. D., Ozbiltekin-Pala, M., Lafçı, Ç., & Sarma, P. R. S. (2021). Evaluating resilience in
                    food supply chains during COVID-19. International Journal of Logistics Research and Applications, 1-17.



         06         Sivapalan,  A.,  Shankar, A.,  Das,  M.,  Konalingam,  M.  (2021).  How  to  enhance  customer  loyalty  to  retail
                    stores via retail service quality practices? A moderated mediated mechanism. Services Marketing
                    Quarterly, 1-22.


         07         Kolukuluri, K. (2022). Adverse Health Shocks, Social Insurance and Household Consumption: Evidence
                    from Indonesia's Askeskin program. Journal of Health Economics and Management.



         08         Kumari. P. (2022). Impact of interactivity on bookkeeping application adoption intention in new normal:
                    A consumption values perspective, Journal of Electronic Commerce in Organizations.






          ABDC-C


          01        Villari, B. C.,  Subramanian, B., Kumar, P., & Hota, P. K. (2021). Do Firm Growth Models Work in Service
                    Industries in Developing Economies? An Investigation of the Relationship Between Firms' Growth, Size
                    and Age. Journal of Interdisciplinary Economics,33(2), 215-225.



          02        Patel, S. S., & Ramachandran, P. (2021). A bargaining model for sharing water in a river with negative
                    externality. OPSEARCH, 1-22.



          03        Titiyal, R., Bhattacharya, S., & Thakkar, J. J. (2022). E-fulfillment across product type: a review of literature
                    (2000–2020). Management Research Review.


          04        Gupta, P., Bakru, K., &  Shankar, A.  (2022). Sustainable Organizational Performance Management:
                    Deciphering the role of Emotional Capital in E-Commerce industry, SouthAsian Journal of Business
                    Studies.




          Other Publications


          01        Arora, M., Shinde, A. M., Yadav, V., Maji, K. J., Singh, V., & Myers, R. J. (2021). Ramifications of Indian vehicle
                    scrapping policy across the mobility sector. Resources, Conservation and Recycling, 174, 105845.