Page 4 - research-at-iimv-june-01-2022-v3
P. 4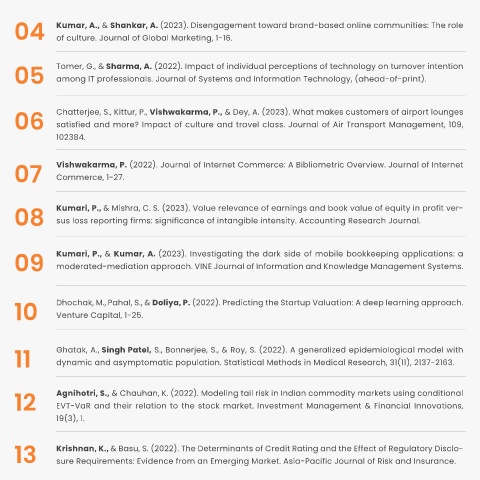 17       Kolukuluri, K. (2021). Healthcare utilization and outcomes for insured dependent children: evidence
                   from Indonesia. Empirical Economics, 1-33.


          18       Patyal, V. S.,Sarma, P. R. S.,Sachin, M., Tirthankar, N., Denis, D. (2021). Mapping the links between Industry
                   4.0, Circular Economy and Sustainability:  A  Systematic Literature  Review.Journal of Enterprise
                   Information Management, 35(1), 1-35.


          19       Mangla, S., & Sarma, P. R. S.,(2022). Resilience and Complexity Measurement for Energy Efficient Global
                   Supply Chains in Disruptive Events. Technological Forecasting & Social Change.


          20       Tripathi, A. &  Kumar, A.  (2022). Demystifying the effect of high-performance work systems on job
                   involvement based on dual-path mediation model. American Business Review.



          21       Basu, S.,  Majumdar, B., Mukherjee, K., Munjal, S., & Palaksha, C. (2022). Artificial Intelligence-HRM
                   Interactions and Outcomes: A Systematic Review and Causal Configurational Explanation. Human
                   Resource Management Review.


          22       Kumari, P.  (2022). How does interactivity impact users' engagement over mobile bookkeeping
                   application?,Journal of Global Information Management.




          ABDC-B


          01        Shankar, A.  (2021). Does employees' perception towards mobile human resource management
                    application quality affect usage intention? A moderated-mediation analysis. The TQM Journal, 34(1),
                    145-159.


          02        Shankar, A. (2021). Does Reward Gamification Drive Brand Relationship Quality? An Experimental
                    Approach. Journal of Promotion Management, 1-24.


                    Sumod, S. D., Premkumar, P., Jeesha, K.,& Chowdhury, S. (2021). Is There a Method to Madness? Predicting
          03 Success of Bollywood Movies. The Journal of Prediction Markets, 15(2), 1-24.



                    Yüksel, D., Kazancoglu, Y., & Sarma, P. R. S.  (2021). A multiphase acceptance sampling model by
          04 attributes to investigate the production interruptions in batch production within tobacco industry.
                    International Journal of Quality & Reliability Management,39(3),836-858.